The Bob Marley Movement presents the 18th Annual 9 Mile Music Festival (formally the Caribbean Festival) and Food Drive on Saturday, March 12, 2011 at Bayfront Park, Downtown, Miami. The gates open at 1pm.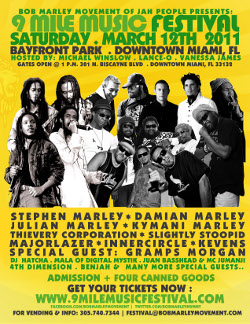 Every year the Festival collects canned food and donates it to a needy organization. Since the inception of the Festival over two million can of food has been collected! This humanitarian effort helps spread Bob Marley's message of peace, love and unity.
This years Festival will benefit Curley's House, an organization that provides bulk food products to underprivileged recipients.
This year's Festival will feature performances by Stephen Marley, Damian "Jr. Gong" Marley, Julian Marley, Ky-Mani Marley, Slightly Stoopid, Thievery Corporation, Major Lazer, Inner Circle, Kevens, DJ Hatcha, Mala of Digital Mystik, Juan Basshead and MC Jumanji. Gramps Morgan and Third World will be performing a song or two with the Marley crew. Protoje will be joining Ky-mani Marley onstage to perform their hit Rasta Love. Hosted by Michael Winslow of the Police Academy movies, Lance-O of Kulcha Shok Muzik and Vanessa James.
The Festival is one of the most successful musical events throughout South Florida. It is an event that entices people from around the United States, Canada and the Caribbean to attend.
Advance General Admission tickets are $55.00 (plus four cans of food) and are available at www.bobmarleymovement.com and other Caribbean outlets.
General Admission tickets start at 63.00, plus four cans of food.
Special VIP tickets are available for $183.00. This includes a special viewing area, food, drink and a commemorative t-shirt.
For more information go to bobmarleymovement.com or call the hotline: (305)740-7344.