Should you be currently searching for a very strong and vibrant Roots Reggae riddim [and you are], you may just want to direct your attentions to Barcelona, Spain, where Genis 'Genious' Trani and co. at Reggaeland Records are currently serving up the lovely Dem Talking Riddim and it is sure to give you what you're looking for.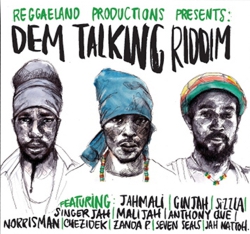 Reggaeland actually constructed the Dem Talking Riddim in Spain, but were apparently so confident with the results (and justly so) that they didn't hesitate to carry it to Jamaica, thus, the artists voicing the riddim are some pretty serious talents. Sizzla Kalonji, Ginjah, Chezidek, Norris Man, Jahmali and Anthony Que are just some of the big names voicing the Dem Talking and they are joined by the solid likes of Singer Jah, Malijah [Jahmali and Malijah on the same riddim!] [wow] and even Spanish artist Jah Nattoh.
Interested? Of course you are. You need not wait to get your fix as the Dem Talking Riddim, courtesy of Reggaeland Records can be found on fine etailers across the globe.