French roots activists strike hard once more ! The roots reggae band Rockers Disciples and sound system and label Blackboard Jungle, both from West of France, have teamed up with Jamaicans Tony Tuff and Anthony John to offer a fresh new 12'' in a roots rockers style.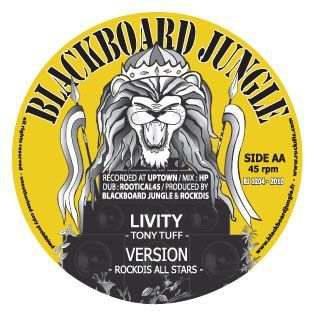 Out now, the disco release features Anthony John's Love & Pray, previously played by sound systems as a dubplate and Tony Tuff's Livity. Both cuts are on a riddim by Rootical45 & RockDis, played by RockDis all stars (aka The Rockers Disciples).
This new rootsy 12 is the first release in a series of vinyl discos, co-produced by Blackboard Jungle and the band RockDis.
For each production, one riddim, 2 vocal parts and 2 dub versions, featuring "singers from different areas, representing different styles and cultures" said Rock Dis and Blackboard.
A CD, compiling all the 12'' vocal content has also been announced. Stay tuned !