Necessary Mayhem producer Curtis Lynch is apparently taking things up a notch in 2011. In January he dropped an EP from Chantelle Ernandez as well as a reworking of the classic riddim Pass the Kouchie and two 12" from Dennis Brown and Brinsley Forde respectively. February saw the lovers rock album 'The Love Directories' that compiled both released and previously unreleased material.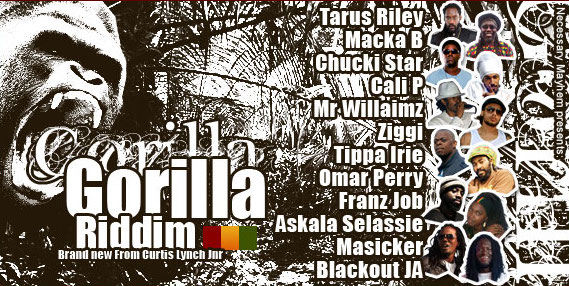 Now he has come up with a new riddim called The Gorilla that is – according to the press release – "the best riddim so far on the Necessary Mayhem label". And it certainly is a great one with efforts from a broad variety of artists.
Tarrus Riley, Omar Perry, Franz Job and veterans Macka B and Chukki Starr have all voiced this dub infused bass heavy riddim that will make you shake your hip and move your feet.
It's available on Monday March 14th on vinyl and legal download.