The singer Lloyd Brown has made an important announcement via his Facebook page asking everyone to create their own jingle to help the people of Japan.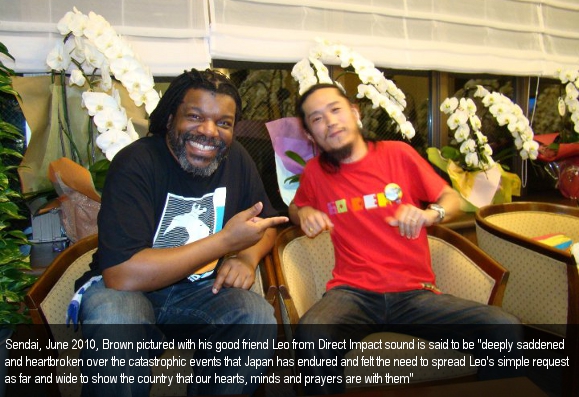 "I know that amongst the entertainers who have had the priviledge and honour to perform in Japan, I feel truly heartbroken over the catastrophic events that has affected the country.
In my frantic attempts to link my friends located in Tokyo, Osaka and of course Sendai, I received a sigh inducing message from my friend Leo from Direct Impact, letting me know that he was fine.
He asked me to voice a jingle to pledge support and to help uplift the Japanese Reggae Community and Japan as a whole.
He didn't have to ask me twice, and with that I have taken it upon myself to pass on his request to not only the world's reggae community but all communities.
All I ask is thirty seconds of your time in expressing your support, condolences, prayers and best wishes for Japan's recovery by way of voicing a jingle, the quality of the file is of no importance, its the effort in conveying the message that is.
Please send your 30 second or less jingle to lloydbrownmusic@hotmail.com or directimpactmusic@hotmail.co.jp
I'm more than sure that your PERSONAL messages will help to uplift the beautiful people of Japan in truly unimaginable circumstances which will continue for months to come.
Please pass on and share.
Thanking you in advance.
Lloyd Brown"
Other members of the reggae community have also shown their support for the country. The group TOK recorded the tribute below.
We urge you to join the campaign and help lift the spirits of people affected by this terrible event.