Matthew Davis was born in Jamaica but moved to Atlanta, Georgia in the US at a young age. Now 30 at years old and under the pseudonym of Lyrikill for the past 3 years has been found chatting on the mic in various mc / deejay / singjay styles which resulted in the release of the album 'Constructive Seduction' on the French underground label Springline at the tail end of summer 2009, with the help of Flow Production revival riddims to compliment his original lyrics.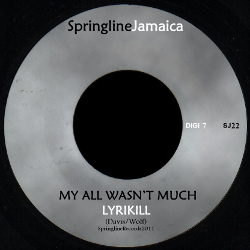 His popularity in Atlanta appears to be growing -especially with the ladies- with a number of live appearances under his belt at Atlanta's infamous Apache club, plus he has displayed his versatility by hooking up with local hip hop crews and working with various well known underground hip hop producers such as ET Sounds Indeed last year classic Hip Hop label Def Jam expressed an interest in him. For now though he is firmly in his reggae guise with a new single titled My All Wasn't Much, again on a Flow Productions riddim. There are two versions of the song both of which are in a kind of Rub-A-Dub Lovers vein. Version 1 is the raw vocal mix whilst version 2 is a smoother balanced mix with a different vocal approach.
Hopefully more will emerge from this promising talent soon. My All Wasn't Much is available now at leading download stores.