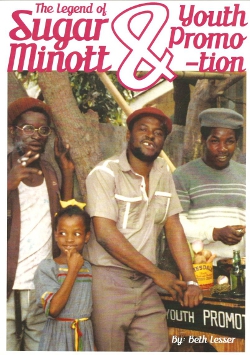 Last year dancehall pioneer Lincoln "Sugar" Minott sadly passed away only 54 years old. Now has his longtime friend Beth Lesser put out a book on him and his work. She got to know Sugar Minott in the 80's and she and her husband married at dance arranged by his sound system and label Youth Promotion.
Beth Lesser has previously written the acclaimed books King Jammy's and Dance Hall: The Rise and Fall of Dance Hall Culture. She is also a photographer and several of her photos have been used for numerous albums and books.
The Legend of Sugar Minott & Youth Promotion is essential reading for any reggae fan. It is 212 pages and costs around £10.