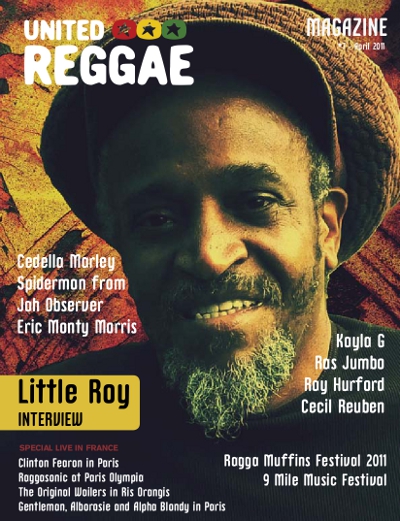 You can now enjoy the free pdf version packed with most of United Reggae content from April.
Leaf through or download it now!
In this seventh issue, you will find interviews from Little Roy, Cedella Marley, Eric Monty Morris, Spiderman from Jah Observer, Ras Jumbo, Ray Hurford, Cecil Reuben and Kayla G, photos from Raggamuffins Festival, Taj Weekes, 9 Mile Music Festival, Clinton Fearon, Raggasonic, The Original Wailers, Alborosie, Gentleman and Alpha Blondy in Paris, albums reviews and news about Luciano, Ziggi Recado, Bunny Rugs, Jah cure, Daweh Congo, Takana Zion, Junior X, Laurel Aitken, Bob Marley, Garnett Silk and many more.
The magazine can be read online or downloaded for free. And you can now also get a paper copy. Details here.