Due for release on 23rd May is a 12" Disco style 45 inspired by those 1970's golden era classics. The release titled More Jah Songs / Tell the World is by Bristol's own Dubkasm and features the vocal talents of Tena Stelin & Solo Banton.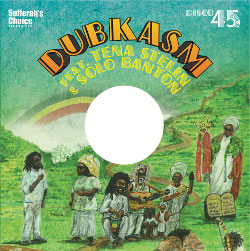 The songs all based around the same riddim, a mix of live instrumentation with heavy soundsystem style steppers that see Solo Banton reinforcing veteran Tena's spiritual plea in a deejay style. These two vocal cuts are backed by a soul-drenched sax and flute instrumental, a dub workout that takes us through antique Jamaican circuitry into a futuristic growler before closing in characteristic Dubkasm style with Digistep at the mixing board.
Dubkasm are a UK and Brazil-based roots reggae/dub outfit formed by two friends Digistep (producer and musician) and DJ Stryda (co-ordinator/promoter) in 1994 after seeing Jah Shaka at the Malcom X centre in the city the previous year. Their first release was 'Chemical Reaction Dub' in 1996 on Nubian Records' 'Dub Out West' compilation series. This then led to the creation of their own Sufferah's Choice Recordings label, named after DJ Stryda's well-established Bristol radio show, on which they have now released around 10 recordings including their 2009 debut album, 'Transform I'. The duo have also made numerous live appearances around the globe.