Canadian Dub surrealist Denja has teamed up with Italian remix supremo 'A Man Called PJ' to presents this late night, spacey, chilled dub entitled Cool Mon Cool. It was originally released as an album track on Denja's Springlines' debut, back in February, 'Shaman's Trip' and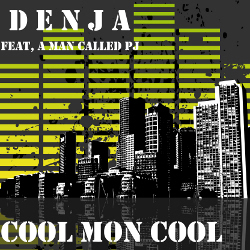 now this remix version of the tune comes out as a transitional release whilst Denja prepares for his second album with the label to be called 'Vampire Slayer'.
Denja, real name Steven Leclair became interested music at 16 years of age when his father taught him to play the guitar and he joined a grunge/punk band. Three years later he was introduced to reggae music and was so consumed by it almost became his sole interest. He did however take to reading around this time and became quite spiritual reading the Bible, Koran, Torah and many other such books that led him to the subject of controlled vibrations.
All of these experiences he now endeavours to reproduce through his music and hopes that people will feel these sensations through his creations of rhythmic drumbeats and trance like soundscapes. Details at www.denjasounds.com