"Conscious Music For Conscious People" is the slogan of fine French/Jamaican label, The HandCart Market, who makes a quick return with its latest project, the well named Light & Shadow Riddim. This absolutely gorgeous Roots set includes a quartet of fine efforts from a very varied roster of artists.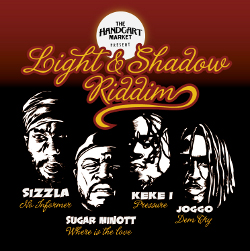 On one end are Keke I, a favourite of the label, and impressive Dutch up and comer, Joggo. They may not be exactly household names in the Reggae listening world, but their tunes Dem Try and Pressure, respectively, are not to be missed. Sizzla Kalonji and the late and great Sugar Minott certainly are very well known and they also both supply the Light & Shadow Riddim with a pair of big tunes.
The only problem here is that there should have been more on this sweet Roots Riddim. As it stands, however, fans can get this small taste of the Light & Shaddow Riddim through etailers worldwide.