On digital shelves May 17th is the latest and sixth installment of Dread & Alive's The Lost Tapes compilation series and, as usual (for them) (and ONLY for them), the release boasts a very healthy variety of artists.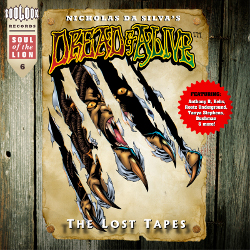 In only nine tracks TLT manages to serve up one of the most diverse roster of performers which includes the likes of veterans Bushman and Chinna Smith, master guitarist Taddy P alongside Tanya Stephens, Anthony B alongside burgeoning Roots star from out of Aruba, Smiley and a recently returning VI veteran, Danny I (whose tune, Me Mantengo Fuerte [I Stay Strong], was absent from his most recent album, the outstanding 'To His Majesty'). Also on board are the likes of the well respected Rootz Underground, the mighty Messenjah Selah and a whole heap of up and comers, headlined by the ultra impressive Kehv.
In the past, this series has featured a wide array of some of the biggest names in Reggae with stars of the future and past alike, but here perhaps, they've even managed to outdo themselves. Dread & Alive's The Lost Tapes Vol. 6 is in stores now courtesy of Soul of The Lion.