Brina is an upcoming female reggae singer from Jamaica, who recently put out her debut double A side single Listen/Real Reggae Music.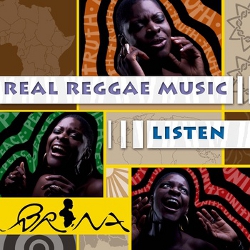 These two tunes are real scorchers. Believe me. If you like early 70's reggae Trojan or Pama style, then both tunes will surely appeal to you.
Listen is a soul-drenched one drop whereas Real Reggae Music is a pure summer banger reminiscent of Reggae From the Ghetto with its gospel chorus.
Brina recently opened for The Mighty Diamonds and The Jolly Boys on their UK tours. And her upcoming debut album features a stellar line-up of musicians – Sly Dunbar, Toots Hibbert, Michael "Ibo" Cooper, Dean Fraser and Nambo Robinson just to name a few.
Brina's powerful voice and style can be compared to the queen of reggae Marcia Griffiths, so be sure to check out her single on a download platform near you.