The 27th annual Reggae On the River festival takes place on the 16th & 17th July at Benbow Lake State Recreation Area in Garberville, California.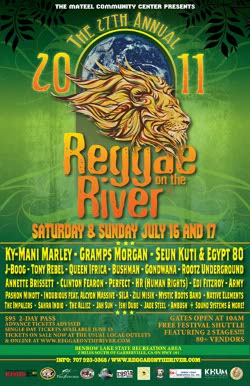 For the first time ever there will be 2 stages hosting a feast of quality reggae and world music acts including Ky-Mani Marley, Gramps Morgan, Seun Kuti & Eqypt 80, J Boog, Tony Rebel, Queen Ifrica, Bushman, Gondwana, Rootz Underground, Annette Brissett, Perfect, Clinton Fearon, Army, HR, Edi Fitzroy, Pashon Minott, Native Elements and much more.
There is plenty camping, cold showers and river access at Cooks Valley in the shade of the redwoods with weekend, day, or single night passes available for purchase. Shuttles will run from the campground to the event site. Other additional campgrounds in the area are also available.
Full line up, stage and appearance times as follows :
Saturday, July 16th

Redwood Stage:

10:15am ~ Opening Prayer w/ Goodshield
10:30am ~ Mystic Roots Band
12:00pm ~ Native Elements
1:00pm ~ Pashon Minott
2:05pm ~ Perfect
3:20pm ~ Annette Brissett
5:00pm ~ Bushman
6:15pm ~ J Boog
8:00pm ~ Reggae Revolution Tour w/ Ky-Mani Marley & Gramps Morgan

River Stage:

11:00am ~ Ambush
12:45pm ~ The Impalers
2:30pm ~ Zili Misik
4:15pm ~ Indubious
6:00pm ~ Sahra Indio
6:35pm ~ Edi Fitzroy
8:25pm ~ HR (Human Rights)

Sunday, July 17th

Redwood Stage:

10:30am ~ Jade Steel
12:00pm ~ Zili Misik
1:40pm ~ Clinton Fearon
3:30pm ~ Gondwana
5:15pm ~ Queen Ifrica
6:35pm ~ Tony Rebel
8:30pm ~ Seun Kuti & Egypt 80

River Stage:

10:15am ~ 7th Generation Rise
11:00am ~ Sahra Indio
12:00pm ~ Indubious
1:40pm ~ The Alliez
3:20pm ~ Jah Sun & Ishi Dube
5:10pm ~ SILA
6:50 ~ Army
8:30 ~ Rootz Underground
For more information on the 27th annual Reggae On The River festival visit www.reggaeontheriver.com