Based in Sheffield England Sama Roots Records, who were responsible for the popular Light Switch riddim championed by Channel One Soundsystem last year, will this month be releasing their second riddim.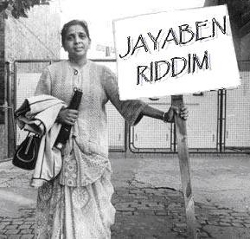 The Jayaben riddim is named after Jayaben Desai the Asian worker who led a walkout, by around 100 mainly Asian, female employees at the Grunwick Film Processing Laboratories in Willesden, North London on Monday 23rd August 1976 in a row about working conditions, pay inequality and institutionalised racism within the company. The dispute by the women, who became known in the press as "strikers in saris", lasted more than two years where there were frequent confrontations between hundreds of trade unionists and the police.
Despite the fact that they eventually lost the dispute it proved to be a seminal moment in British industrial history, drawing attention to the overlooked plight of female migrant workers.
Desai, who died just before Christmas last year at the age of 77 was considered remarkable for her defiance of the stereotyping of south Asian women as subservient and for being a strong and eloquent leader. A photograph of her confronting a row of police officers, a handbag dangling from her arm, became one of the iconic images of the 1970s and this music is their tribute to her.
The riddim harks back to those troubled times and is in the classic roots reggae mould of the '70s. It is produced by Fullness from, the South Coast's premier Reggae band, Dubheart who formed in 1999 and have played many festivals and clubs around the UK and Europe, as well as supporting and working with great artists like The Wailers, Easy Star All Stars, Vibronics, Zion Train, Macka B, Don Letts and many more. There are two Vocal cuts on the riddim, the first The Wicked is a conscious affair by the brother and sister duo Rootsamala who recently impressed with their version of Forward To Jah and other works with the BDF band.
The second One Family is from Ghetto Priest who is known for his far-out lyrics and tells listeners not to ignore reality as he warns "don't abandon current affairs, put no trust in millionaires". Both of these cuts have lyrics that Desai I'm sure would have related to and agreed with and so act as a fitting reminder to what she stood for and worked so hard to achieve.
There is also a mix of the riddim featuring the Fullness Horns and an elegant dub version by Nick Manasseh.
SR003
A - The Wicked by Rootsamala
B - Jayaben Melody by Fullness Horns
SR004
A - One Family by Ghetto Priest
B - Jayaben Dub by Manasseh