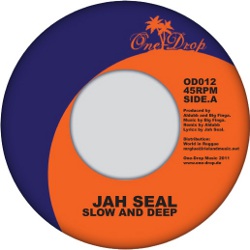 Berlin based Irieland Music in partnership with One Drop Music and Planet Earth Studios has just brought out a new release from Jah Seal, who delivered us the excellent and varied album 'Itopia' in 2008, called Slow and Deep on 7" vinyl.
This single, on a one drop, is a great slice of modern roots reggae that started life on the Irieland Soundsystem as an exclusive dubplate mix of the instrumental Eins Drei Dub, which is on the flip and was originally recorded early in 2010 in Jamaica by Josie Bigfinga Coppola with Hopeton Hibbert, son of the legendary Toots, on bass. Keyboards and guitars were then overdubbed in Berlin before Jah Seal recorded the vocal version early this year.
Eins Drei Dub is also going to be appearing on the forthcoming dub LP by Bigfinga and Aldubb.
Available now from www.one-drop.de.