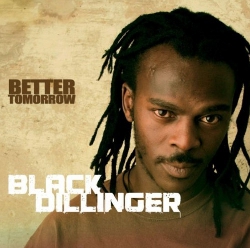 Always impressing South African light, Black Dillinger, links up with aspiring, but already well solid, Austrian imprint, RichVibes Records to deliver his latest set, 'Better Tomorrow' which is currently in stores now. The eighteen-track album, Dillinger's third, follows two excellent sets in 'Live & Learn' and 'Love Life' should find a very welcome audience as the fiery African chanter has amassed a very impressive and loyal following thus far, which only figures to grow in response to the new release.
Besides featuring combinations with the likes of Jahson and Ward 21 & Tifa, the album is also noted for featuring the blazing former single, Volcano Erupt.
Have a listen for yourseflf - Black Dillinger's brand new album, 'Better Tomorrow' is in stores now.