There is a European flavour to The Rootz Warrior, Warrior King's new album which is scheduled to be released in February by Zojak International.
On it, the singer works with Phar Phar from Germany on the dub step track Sign of The Times, and with Walboomers Music from The Netherlands on Heartbreaker which he did with Richie Spice.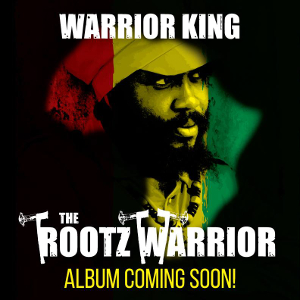 The 36-year-old Warrior King, who is scheduled to start a month-long tour of the United States and Bermuda on January 18, describes The Rootz Warrior as his "best work to date".
"We give the fans a little of everything," he said.
A little of everything includes roots-reggae songs like His Majesty and Stand Up In The Fyah. The latter is produced by Sheldon 'Calibud' Stewart, the man behind Never go Where Pagans Go, Warrior King's second hit song from 2001.
There is also a collaboration with Beres Hammond called I Wouldn't do That and a cover of The Beatles classic, I Should Have Known Better.
Ain't Giving Up, the lead song, is co-produced by Warrior King's Rootz Warrior company and Irie Sounds International.
Warrior King, whose hits also include the breakthrough Virtuous Woman, has not released an album since 2011's Tell Me How Me Sound.
His tour starts at the Worldbeat Center in San Diego, California.