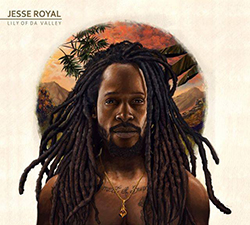 Jamaican roots revivalist and singjay Jesse Royal recently put out the second single off his long-awaited debut album Lily of Da Valley, scheduled for release on October 6 via U.S. label Easy Star Records.
The new single Generation has Jo Mersa Marley dropping an authoritative verse and is as usual an infectious affair with conscious lyrics and melodic hooks. Jesse Royal has since his first recordings with Xterminator Productions – now XTM. Nation – been one of the most solid artists from the Jamaican roots and Rastafari revival scene.
For about six years he has put out a steady stream of excellent singles and cuts on one riddim albums for a broad variety of producers. Some of his strongest material includes Modern Day Judas, Preying On the Weak and Cool and Deadly.
Jesse Royal will be the fourth artist from a new Jamaican generation of roots artists to drop their debut albums this year. Chronixx and Samory I put out their Chronology and Black Gold in July. And in October it's time for Jesse Royal's Lily of Valley. Sometime in the coming four months Kabaka Pyramid will also put out his Contraband, a set executive produced by Damian Marley.