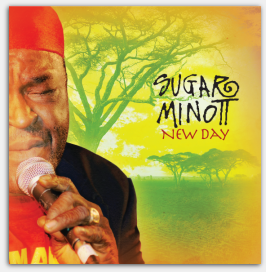 Five years after his last album Leave Out A Babylon, veteran dancehall singer Lincoln 'Sugar' Minott comes back with New Day. This new set is due out on July 21 on Stop, Look and Listen records and features several collaborations with Jamaican artists. Toots Hibbert on self-tiltled track New Day, deejays Josey Wales and Ranking Trevor, guitarist Dwight Pickney, Peter's son Andrew Tosh, Bongo Herman and Scully on percussions along with Sly Dunbar on drums.
To note that seven tracks were recorded at Sugar's studio, Black Roots in Kingston and the album has been produced by English Roman Pryce who also engineered and mixed the set in the UK, Jamaica and the USA. A new dancehall, reggae and lover's rock album.
Let's listen a sampler from New Day including Gett'in It On (featuring Josey Wales and Ranking Trevor), Good Friends and New Day (featuring Toots Hibbert).