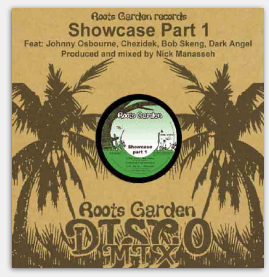 UK label Roots Garden, set up three years ago by roots reggae and dub soundsystem Roots Garden, releases its first Showcase on limited edition 12'', produced and mixed by Nick Manasseh. We found four heavy roots reggae vocals - each followed by a dub version - by Johnny Osbourne, Chezidek, Bob Skeng and Dark Angel.
17 years after the killer Education, his first recording with UK based producer Manasseh on RIZ records, Bob Skeng returns with the spiritual The Lion over a fresh rootsy riddim. Then, comes the singjay Chezidek hailing from St. Ann, JA, who delivers soulful and conscious vocals with On The Go over a Manasseh one drop style instumental. Side B features London based singjay Dark Angel delivering a hit tune, with the militant Free Da Minds, over a digital dancehall riddim reminding the good 80's. Finally, comes Manasseh's remix of Johnny Osbourne's wicked Blackstarliner originally released on 7' in 2005 on Roots Garden label.
This new release in a showcase style features four strong tunes with their dub versions. Available on 12'' and soon for download from online stores. Looking forward to hear the Part 2 !