Kingston based French producer Sherkhan of Tiger Records has just digitally released a new modern roots riddim entitled Sufferah Riddim. This new series features 9 vocals cuts plus the instrumental version. Singays Jah Mason, Lutan Fyah, Norris Man and Perfect deliver nice conscious tunes over this great rootsy rhythm led by a simple but heavy bass line. We also found underrated artists as top singer Michael Rutherford and his beautiful The City or Teflon and Little Devon for their very inspired Bun Dung and Burning Hot. We don't forget the female singers Blessed and Diana Rutherford, with a special mention for Blessed' Pon Di River Nile.

The Sufferah riddim is now available digitally from regular download sites. Looking forward to a CD, and almost a 7" release !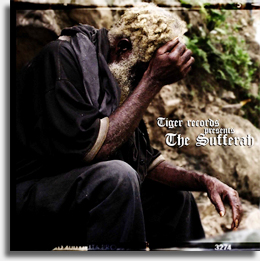 Tracklist :
1. "Babylone a rise" by Jah Mason
2. "Caged" by Diana Rutherford
3. "Bun dung" by Teflon
4. "Poverty" by Lutan Fyah
5. "Burning hot" by Little Devon
6. "Take the message of Jah" by Norris man
7. "The City" by Michael Rutherford
8. "Trinity" by Perfect
9. "Pon di river Nile" by Blessed
10. "Sufferah riddim"