After
Deep Roots Music
,
Rockers, Coping With Babylon
, and
Roots Daughters
, it is with another crucial document that MVD group continues to amaze us by announcing for the 22th January the release of
Word Sound And power.
This 1981 documentary about Jamaica's finest group of reggae instrumentalists combines insightful band interviews and discussions with live performances from the open air of a Kingston courtyard.
The performances of the
Soul Syndicate Band
are beautiful and it is a good reason to get this DVD imperatively.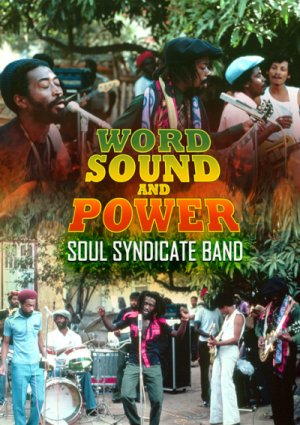 Track Listing / Features:
* Jah Jah Music - The Soul Syndicate with Tony Tuff
* Chinna interview by the river, Part 1
* Africa Roots - Jah Minstrels with Chinna
* I Feel Secure - The Soul Syndicate Band
* The Soul Syndicate Fan Club Dancers
* Chinna interview by the river, Part 2
* Occupation - Chinna (acoustic)
* Zeros Yard
* Visions of Love - Zero (acoustic)
* Mariwana - The Soul Syndicate Band
* Chinna interview by the river, Part 3
* Fully and Tony interview
* Santa interview
* Harvest Uptown - Fully, Tony, Santa (acoustic)
* Chinna interview by the river, Part 4
* None Shall Escape the Judgment