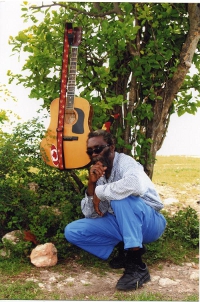 This is a really sad time for reggae music. After Sugar Minott's passing, we have just heard that veteran singer Claudius 'Kingman' Linton passed away.
Claudius Linton recorded several singles in the 1970's, with his group the Hofner Brothers and solo hits like the classic Crying Time. In 1984, after recording an album for producer Jack Ruby, Linton disappeared from the scene.
After more than a 20-years absence, Kingman returned to the music in 2007 with 'Roots Master : The Vintage Roots Reggae Singles', a compilation including his hits and unreleased songs. In 2008, Sun King Records released 'Sign Time', Kingman's brand new album made in collaboration with American musician and producer Ian 'Jonah' Jones. After many troubles, he was actually homeless in Long Bay, California.
Kingman was part of the living history of roots reggae music. RIP.
Watch him singing and talking to Press-Telegram about his music in February 2010 :