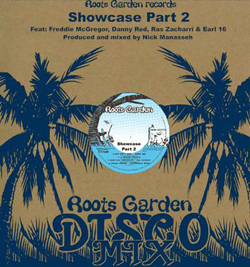 Sussex based deep roots label Roots Garden has issued the second in its Showcase series. The previous set featured Bob Skeng, Chezidek, Dark Angel and Johnny Osbourne across four vocals with companion dubs; and this new release follows the same format (retaining two of the rhythms) but with the redoubtable talents of Danny Red, Ras Zacharri, Freddie McGregor and Earl 16. The entire undertaking was produced and mixed by Nick Manasseh who proves as adept with these live instrument and percussion heavy arrangements as with his dubstep influencing digi work.
Danny Red is first up and on the offensive, with a castigation of unwelcome interlopers called You Don't Know, followed by a slow menacing horns and Nyabinghi drum driven dub. Ras Zacharri then celebrates the traditional Ethiopian salutation Greetings Tenastelin over a more upbeat rhythm laden with carefully timed rattles and guiros. This gives way to another slow burning horns workout from the Soothsayers (whose 45s last year with Michael Prophet and Johnny Clarke were similarly revelatory examples of modern roots music in a flawless devastating style).
The tempo drops for Rally as the legendary Freddie McGregor supplies that distinctive combination of roots sentiment and soulful singing we remember from classic 70s sides like We Got Love. The version is a creeping march to hand drums and the fragile sounds of a flute. Finally the UK reggae scene's greatest adopted son, Earl 16, rocks to bird SFX and an early 80s kick-and-snare beat for Gold Dust, based on an old Channel One rhythm from the vaults.
While deep roots music remains underground, this and other recent efforts show it to be the picture of health and strength. Showcase Part 2 is available now on limited edition 12 inch vinyl and digital download release and is guaranteed to blow you away…